Review, Rename, Reclaim
Review, Rename, Reclaim is a collaboration between the Council and community leaders, cultural experts, historians, teachers and young people that share one thing in common; a passion to make Hackney's public spaces more representative of the communities that live here.
In June 2020, the Council launched a naming review to listen to the views of residents, partners and others about how to tackle public spaces named after slave and plantation owners.
The naming review complements the Council's Black Lives Matter motion and builds upon a long history of fighting racism in the borough. Read Mayor Philip Glanville's statement on the structural racism faced by black communities.
The Review, Rename, Reclaim project gives us an opportunity to rethink the names of spaces where communities live, learn, work and play to ensure they appropriately reflect our diverse community.
In the future, we hope this project will further public knowledge and understanding of the inclusive, anti-racism values of Hackney.
Mission statement
The names of former slave owners and colonialists no longer have a home in Hackney. Review, Rename, Reclaim will ensure existing names are identified, reviewed and renamed to ensure our anti-racist values are upheld.
We'll invite residents every step of the way as we review the names of parks, streets, buildings, plaques, murals and statues named after those who do not represent our values of inclusivity, equality and justice.
We'll reframe contentious legacies linked to the history of African enslavement with education and deeper context.
Using an open, inclusive and democratic approach, we'll rename our public spaces with names we can be proud of for years to come.
The community steering group
The community steering group is a collective of local community leaders, cultural experts, historians, teachers and young people.
They have a dual role in advising the Council on how to make inclusive decisions on issues raised within the naming review, and to make recommendations for new names of public spaces named after slave owners.  Some of the members are as follows
Steering group members
Toyin Agbetu
Scholar-Activist, Pan Africanist and Community Educator at the Ligali organisation
It is crucial that the public spaces in Hackney are inclusive, promote ethical values and do not dehumanise people of African heritage.
This review is an important part of that process and is making the neighbourhood a more welcoming and safe home for all, right here and right now.
Jake Ferguson
Chief Executive Officer, Hackney CVS
The review is a key part of working together to make Hackney an anti-racist borough.
Change can't happen quick enough and it's important communities have a role in leading this change.
Orlene Badu
System Leader for the Young Black men project
This project is important to me having been born and worked in schools in Hackney for many years.
I have a vested interest in ensuring the community feels valued, represented and able to thrive.
To avoid further trauma to the community I was proud to be part of challenging continued celebration of our colonial past and empowering our community to have an impact on our past and present history.
Ngoma Bishop
Community Activist, Performance Poet, Creative Writer, Creative Writers Workshop Facilitator, and Event Organiser
The review is important because it helps to keep the Council connected to what the borough's constituents think and require in terms of services.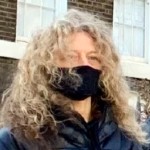 Lucy Capes
History Teacher in Hackney who also runs a series of events, workshops and short courses called The Knowledge is Power programme
The review is important to me because it brings together young people and a range of practitioners to uncover the legacies of slavery and colonialism around us in our street names, buildings and beyond and to engage the community in a democratic renaming and reclaiming of the public realm.
Emmanuel Akin
Youth Engagement Officer and activist
The review plays a vital part in acknowledging the origins of Hackney and how we can connect it towards making Hackney a more meaningful place for us all.
The process
The Council will work collaboratively with the community steering group. Through regular meetings, their collective expertise will be shared to act upon recommendations for the naming review.
Together we will identify the names and symbols of historical slave owners, profiteers and unethical colonialist.
Through active community engagement, public consultation and learning, we'll achieve the process of renaming contentious sites. Alternative names will be crowdsourced with residents and will be shortlisted for a final public vote.
The renaming framework is in 6 stages as outlined below.
Consultations and engagement
We will work closely with residents and businesses living and active on roads identified by the review. Contact will be made to those affected by any name changes from Spring 2021.
Changing the name of Cassland Road Gardens will be the first action of the naming review. The renaming of the gardens will set an example of best practice with active learning and reflection to make sure future renaming is an example of best practice.
Other names identified for review include Sir John Cass, Cecil John Rhodes, Sir Robert Geffrye and Francis Tyssen.
Consultations
Cassland Road Gardens
Cassland Road Gardens will be renamed as one of the first actions from the review
The Hackney streets and open spaces bearing the Cass name are Cassland Road, Cassland Crescent and Cassland Road Gardens. The name is also present on a number of privately owned buildings.
Cassland Road Gardens will be renamed by local residents as one of the first actions from the Council's Review, Rename and Reclaim programme.
Renaming nearby roads, also named after Sir John Cass, is not part of this first action, but residents living in these roads will be invited to share their thoughts about the renaming of the gardens, as well as taking part in the wider review.
Residents living nearby on Cassland Road and Cassland Crescent will be invited in January to take part in virtual engagement events and to get involved in finding a new name for the gardens and can suggest alternative names on the Hackney Naming Hub.
Tyssen Primary School
Tyssen Community School and Children Centre has decided to change the name of their school
The symbol of Tyssen was identified as contentious following the audit of our borough-wide Review, Rename and Reclaim programme.
Tyssen Community School and Children Centre decided to change the name of their school and started a process of engagement in 2020. With Tyssen being a community school, the Council's task force and community steering group supported the decision to change the name to something that better reflects Hackney's diverse community.
The consultation into the changing of the name of Tyssen Road and Tyssen Street will take place in 2021, led by the Review, Rename and Reclaim task force and community steering group.
Learning, engagement and how to get involved
Whilst we can't change the past, nor want to rewrite history, we do want to better understand it and how the past can remain present in our contemporary lives.
This programme will promote public history learning as well as support a more representative and relevant heritage that we can be united in celebrating.
Whilst the Review, Rename, Reclaim programme is responding to the removal of names that represent slave owners, profiteers and unethical colonialists, we will be will prioritising African and Caribbean names and heritage to contribute to reparations.
Submit ideas and stories via the Hackney Naming Hub
Learn more about the programme
Page updated on: 8 January 2021