Coronavirus and vulnerable people resources
Resources for vulnerable people
Lots of things are changing because of coronavirus (Covid-19).
View the latest information from the Integrated Learning Disabilities Service.
We want our vulnerable people, such as those with learning disabilities, to stay safe and well. Many of them will need support to do this. We have put together some information to help including easy read information.
5 ways to wellbeing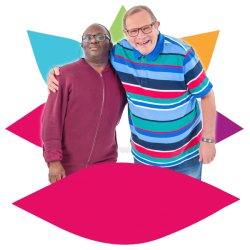 Latest rules
Information leaflets and posters
Face masks and coverings
Getting tested
Getting vaccinated and staying well
Things to do
Death and loss
NHS help
Resources for autistic people
Resources for carers, volunteers and health professionals
Covid-19 and vaccine resources for carers, volunteers and health professionals
Top tips
Below are some summary sheets containing top tips when working with particular groups:
Advice on behaviour that challenges
Looking after yourself
Death and loss support
Other resources for carers and people supporting carers
Resources for people living with dementia, carers / family and professionals
Key resources
Dementia online support groups
Top tips for call handlers / befrienders / professionals
Page updated on: 1 March 2021